This section of the website is dedicated to the "Continuing Education" component of KAS. You will find the details on how to cumulate the necessary mandatory credits to remain current in your practice. Your success with your clients depends on the most current training your acquired. You will also find continuing education opportunities.
KAS has mandated the CKA to manage the professional development of its members through its national continuing education program.
Continuing Education Standard Program (CESP) Commitment
Kinesiologists in Canada participate in this program to ensure that they are maintaining currency in their professional practice. This program is referred to as the Continuing Education Standards Program (CESP). This system is important; particularly as knowledge, experience and educational requirements within the profession are inevitably rising and our profession is expected to remain current.
The CESP operates on a three year basis. At the end of each three year period, Affiliated Kinesiologist are required to submit a listing, along with supporting documentation, of all accumulated continuing education credits. 60 points over a period of three years are required to keep your membership in good standing, ie 20 credits per year of which 70% must be in the scope of kinesiology and 30% in general activities.
Please complete your continuing education progression online on your profile by this link. Once entered in your profile, choose "My formations" in the menu on the left. Complete the form and save. You will receive a validation notice when completed.
Don't know what activities are accepted: List of Accepted Activities for CESP
Continuing Education Opportunities
2022 Canadian Kinesiology Awards
The Canadian Kinesiology Awards are awarded for outstanding achievement in Canada's kinesiology industry.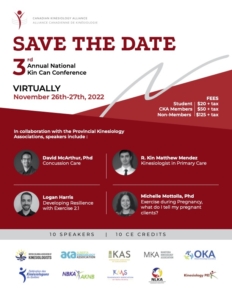 The Canadian Kinesiology Alliance (CKA) is pleased to recognize Canadian professionals for their achievements. 
The Canadian Kinesiology Alliance Awards are an acknowledgment by your peers that you are among the very best in your field in the country. Awards will be granted for outstanding achievement in the following categories: Practicing Kin of the Year and Researcher of the Year.  
The Canadian Kinesiology Awards are open to all Canadian Kinesiologists and researchers (within the eligibility period). 
Membership to the Canadian Kinesiology Alliance is mandatory for the nominee (or at least one nominee in a team), except for the Researcher of the Year category who may apply for the award without being a member of the Canadian Kinesiology Alliance.
All entries must be submitted by midnight on November 20th, 2022.
The panel of judges is comprised of an esteemed group of volunteers from the CKA Board of Directors.
Finalists will be announced at the Kin Can Conference online on November, 27, 2022.
Find more information here (PDF)
Exercise, Nutrition & Health Conference – September 24, 2022
Strength & Conditioning Workshop – September 25, 2022
https://anc.ca.apm.activecommunities.com/uregina/activity/search?onlineSiteId=0&activity_select_param=2&activity_keyword=strength%20and%20conditioning&viewMode=list
K-Taping Course – October 29-30, 2022
Virtual option, as well as in person at various provinces (not one in Saskatchewan)
https://www.orthocanada.com/en/academy-ktape
NOI online courses – Fall 2022
Various topics: explain pain, graded motor imagery
https://www.noigroup.com/events/?type=virtual-c
CSEP Event – Nov 1-2, 2022
Professional writing
In-person event in New Brunswick
https://csep.ca/2022/08/18/scientific-writing-workshop-with-dr-kristin-sainani/
CSEP Event – Nov 2-5, 2022
In-person event in New Brunswick
https://csep.ca/2022/05/06/csep-2022-health-and-performance-for-the-future/
CSEP Online Learning Modules
https://store.csep.ca/collections/online-learning
Human Kinetics Canada Online Courses/Modules 
https://canada.humankinetics.com/collections/courses
NCSA (Strength and Conditioning)
Online learning modules/quizzes
Sport Medicine and science council
Concussion
Online learning
https://www.smscs.ca/programs-services/concussion/prevent/online-courses/
We could facilitate an in person event on concussions for an education event: To request the Concussion Workshops, please contact Manager of Sport Medicine, Scott Jule at  [email protected]
5CSEP PDCs 
Online course
Technically Lifting with the science of strength
https://acexercise.thinkific.com/courses/lifting
University of Saskatchewan – Clinical Reasonings through Functional Capacity Evaluation – October 15-16, 2022
https://rehabscience.usask.ca/cers/courses/current-courses/clinical-reasoning-through-functional-capacity-evaluation-fce.php
University of Saskatchewan – Accessible and Adaptive Yoga Training – October 22, 2022.
In-person in Saskatoon and online
https://rehabscience.usask.ca/cers/courses/current-courses/accessible-yoga-teacher-training.php
University of Saskatchewan – multiple additional courses
Courses that can apply to Kinesiology/allied health professionals.
https://rehabscience.usask.ca/cers/courses/current-courses/CERScourses.php#UpcomingCourses
If you know of ANY upcoming events and/or research presentations that you feel should be added to this section, please contact Shana McLean, Executive Director of KAS at [email protected]